It's Giving Tuesday on December 1st!
We are so grateful to everyone who has donated to Ups and Downs over the last year!
Ups and Downs seeks to support people with Down syndrome and their families and everything we do is made possible by all of our amazing donors! We have so many incredible people invested in this organization, whether it may be through their money, time or skills. The Down syndrome community is so incredibly generous and we are so grateful for that!
On this Giving Tuesday, we would invite you to give – whether it be your time, money or skills! Check out the links below for some of the different ways to donate!
Thanks to all of you!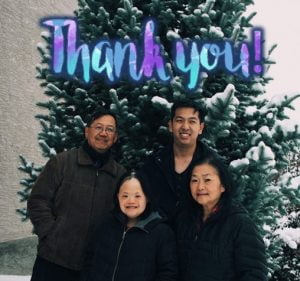 Here's a few ways to donate to Ups and Downs!
Become a donor: Choose to become a monthly donor, or a onetime donor.
Skip The Depot: Bottles Fundraiser
Volunteer your time: Volunteer at our online events
Your Skill Set: Offer your skills and become one of our Key Leadership Volunteers.